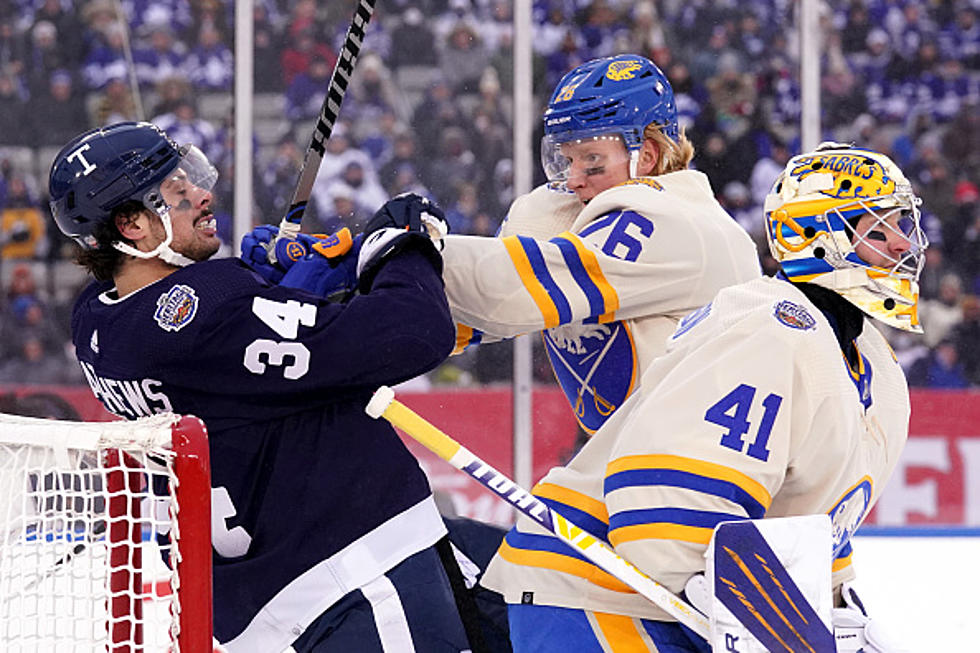 [WATCH] The Illegal Hit That Has Sabres Fans Furious
NHLI via Getty Images
The Buffalo Sabres have won their second straight game after beating the Toronto Maple Leafs in the NHL Heritage Classic, 5-2. There was a cross check from Mpale Leafs' Auston Matthews that has Buffalo fans and NHL fans calling for a suspension.
It was announced late on Sunday that the hit will be reviewed and a hearing will also take place.
Buffalo will continue their Canadian road trip Thursday against the Edmonton Oilers. The Sabres fans have had a renewed energy lately. It was just days ago that Jack Eichel and the Las Vegas Golden Knights were in Buffalo. After the Sabres beat the Knights in front of the largest home crowd of the season, the former Buffalo Sabre had some less than flattering things to say about the fans in Buffalo. It is a moment that the Sabres fans won't forget and now there is another name to add to the "wanted list" after the Heritage Classic.
The NCAA tournament will be in Buffalo for the few days and the Sabres will return home to take on the Washington Capitals on March 25th.
Buffalo Sabres Captains Since 2000
Gallery Credit: Dave Fields
Buffalo Sabres Goalie Masks
Gallery Credit: Dave Fields
Best Free Agents Signed By The Buffalo Bills
The Buffalo Bills are gearing up for a run at the Super Bowl next season and some big-time free agents are already reaching out to the Bills looking to join the team. Check out some of the best free agents the Bills have signed in the past.
Gallery Credit: Dave Fields
More From The New 96.1 WTSS