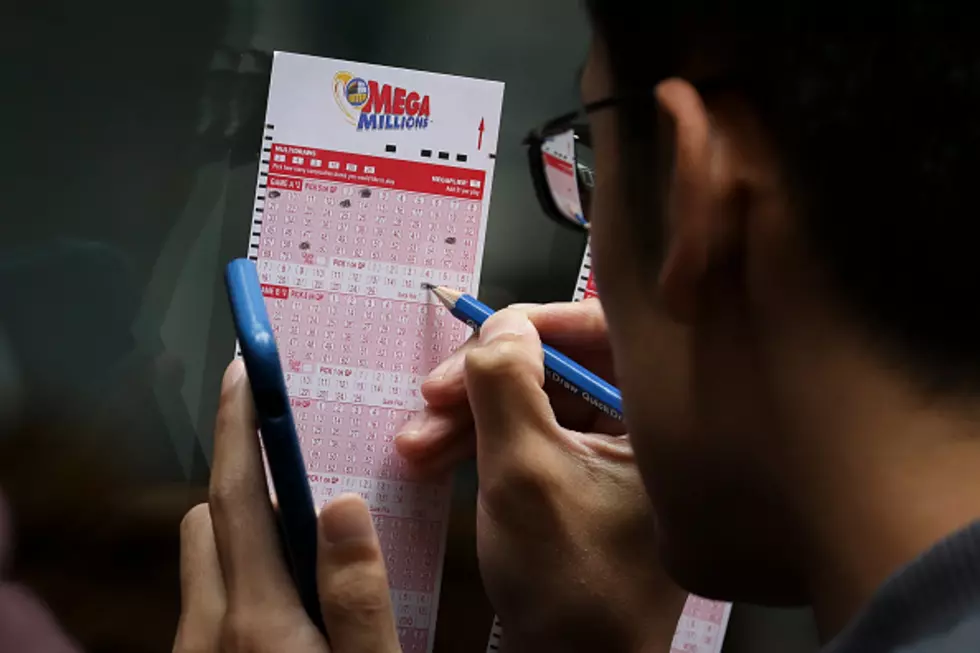 The Largest Lottery Jackpot Ever Won In New York
Getty Images
No one claimed last night's $820 million dollar Mega Millions lottery jackpot which means the next drawing on Friday is now worth $910 million dollars.
That $910 would be the largest single largest jackpot ever won by a New York resident. If fact it would almost double the current record.
Feel Good Mornings With Dave Fields Mon-Fri 6am-10am
Here is a look at the Top 6 largest lottery jackpots ever won by New York residents according to the New York Lottery.
6. $202 Million Dollars
A group of players who played under an LLC named 1937 Flatbush Ave Dodgers LLC won the Powerball prize on June 1st, 2011.
5.
$208 Million Dollars
Daniel Bruckner claimed the Mega Millions jackpot winning just a shade over $200 million dollars in December of 2011.
4. $319 Million Dollars
Seven co-workers from Albany pulled their money and had the winning ticket for the Mega Millions. They took home $319 million dollars in 2011.
3. $326 Million Dollars
Harold Diamond held the record for the largest lottery jackpot in New York for seven years. He took home the Mega Millions jackpot in 2014.
2. $432 Million Dollars
This winning Mega Millions ticket was sold in September of 2021. The NY Lottery does not know who owns the tickets.
1. $476 Million Dollars
Johnnie Taylor took home the jackpot from the Mega Millions drawing in April of 2023.
If you want your name atop this list, you might need some help picking the right numbers to win the Mega Millions $910 million dollar jackpot.
You might want to play these numbers for Friday night's drawing.
WHAT ARE THE 5 MOST COMMONLY DRAWN MEGA MILLIONS NUMBERS?
The Mega Millions was rebranded from "The Big Game" in 1996 and according to the website fox59.com, there have been the 5 most commonly drawn numbers for the white balls. 31, 17, 46, 20, and 4 have been drawn more than 250 times since 1996.
WHAT ARE THE 5 MOST COMMONLY DRAWN MEGA BALL NUMBERS?
The same website said that these numbers were the most commonly drawn numbers for the Mega Ball number. 9, 15, 3, 10, and 1 have all been drawn more than 100 times since 1996.
WHEN ARE THE NUMBERS DRAWN FOR THE MEGA MILLIONS?
The numbers will be drawn at 11 pm Eastern Standard Time.
LOOK: The largest lottery jackpots in US history
Stacker
compiled a list of the 15 largest lottery jackpots in U.S. history from news reports and lottery press releases.
[This list is current as of July 25, 2023.]
Gallery Credit: Chandler Friedman
Which NY Lottery Scratch-Off Games Have the Most Top Prizes Left?
There are plenty of NY Lottery scratch-off games that have big jackpots left. If you are feeling lucky, try your luck at one of the New York Lottery scratch-off games. According to the
New York Lottery
, these are the scratch-off games that still have jackpots to be won to make you become an instant millionaire.
Gallery Credit: NY Lottery
Luckiest Places To Buy Lottery Tickets
These places have sold the most winning lottery tickets.
Gallery Credit: Dave Fields
More From The New 96.1 WTSS