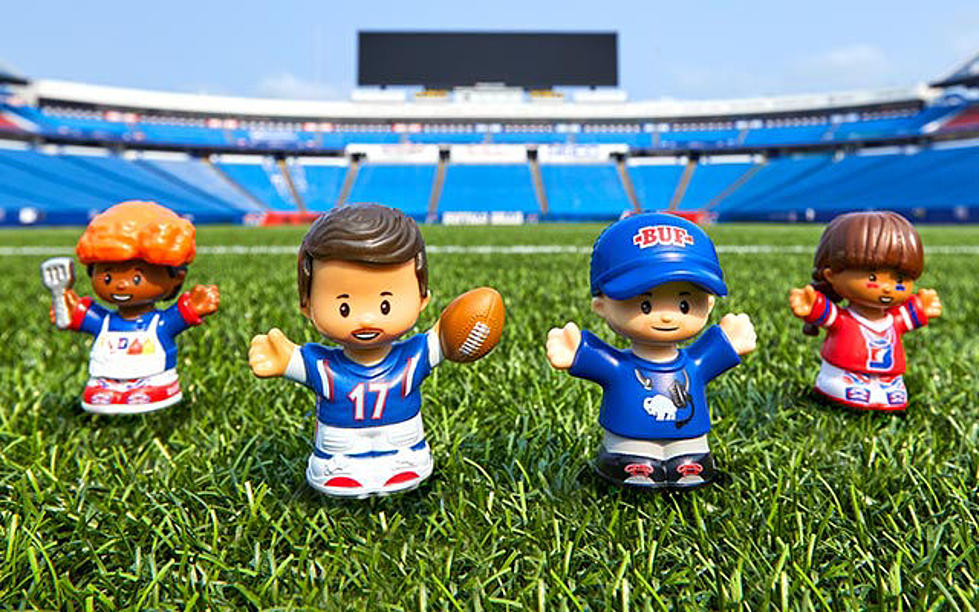 New Buffalo Bills "Little People" Figures Coming Out This Week
(Fisher-Price)
Another sign that Buffalo Bills football is back in Western New York is that another version of the Fisher Price "Little People" figures featuring Bills players, coaches, and fans is set to be released.
WHAT ARE FISHER PRICE LITTLE PEOPLE?
The "Little People" series of toys and figures are smaller versions of real things that kids can play with and people can collect. Currently, the "Little People" collection consists of playsets, mini-sets and accessories, books, CDs, and DVDs.
Feel Good Mornings With Dave Fields Mon-Fri 6am-10am
WHO IS FEATURED IN THE BUFFALO BILLS THEMED LITTLE PEOPLE?
According to a Tweet from Buffalo Bills superfans the Buffalo Babes, this year's set will feature Dawson Knox, Von Miller, Josh Allen, and a member of the Bills Mafia
HOW MANY DIFFERENT BILLS THEMED LITTLE PEOPLE SETS ARE THERE?
This year's release will be the third year that Fisher Price has released a Buffalo Bills themed set. In 2021 the set was not officially licensed by the Buffalo Bills but it featured two fans, Coach Sean McDermott, and Josh Allen.
In 2022, the set was officially licensed by the Buffalo Bills, and the team's logo and uniform design were used. That set featured Coach McDermott, Josh Allen, and Stefon Diggs.
WHEN WILL THE LITTLE PEOPLE SET GO ON SALE?
According to the Tweet, the set should be on sale at area Wegmans starting this Friday, August 11th. Last year Wegmans limited each customer to two sets per purchase. Pretty sure they will be doing the same this year.
Of course, the Little People sets are not the only thing Bills fans collect. Check out some more amazing collectibles that fans can get.
23 Unique Buffalo Bills Things YOu Can Buy at The World's Largest Yard Sale
These are all found at Rustic Buffalo by their incredible vendors.They will;l be on hand for the World's Largest Yard Sale.
Gallery Credit: Pat McMahon, Rustic Buffalo
Buffalo Bills Players Who Had Their Own Cereals
Today is a breakfast lover's dream it is National Cereal Day and if you want to celebrate with some Buffalo Bills players, you will have plenty of choices.
Gallery Credit: Dave Fields
Complete List Of Buffalo Bills Available On Cameo
Gallery Credit: Brett Alan
More From The New 96.1 WTSS