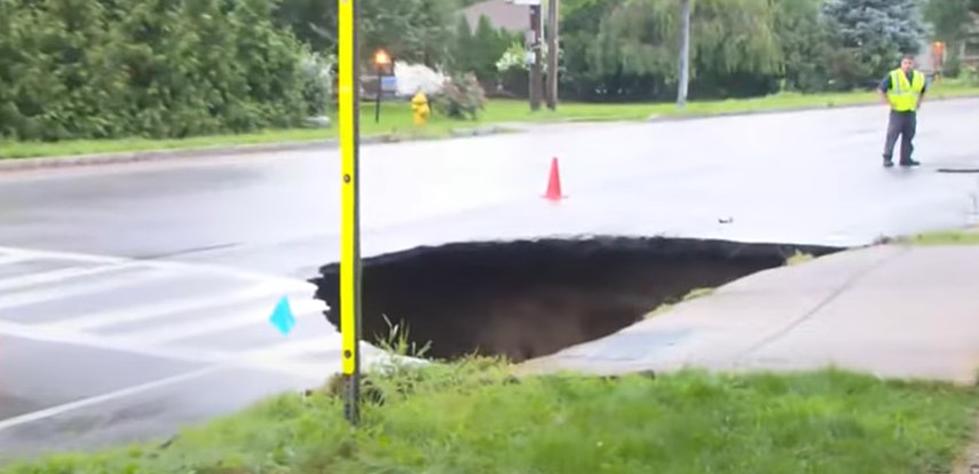 Sinkhole Swallows Car Whole In New York
Photo Credit: YouTube
A sinkhole that formed in the middle of the street ended up swallowing a car whole trapping two people inside.
Feel Good Mornings With Dave Fields Mon-Fri 6am-10am
The sinkhole was reported in Irondequoit, New York a suburb of Rochester.
Rochester was hit with a heavy amount of rain on Wednesday morning that lead to flooding issues all across the city and region. Traffic was at a standstill at several major roads in the city.
According to several reports, the sinkhole is the same size as a swimming pool.
The storm that caused the sinkhole brought between 2-3 inches of rain overnight causing a slew of issues in Rochester and the surrounding suburbs.
Check out some other natural disasters that stuck the citizens of New York.
Buffalo Blizzard of 2022
Various Photos from around Buffalo and Western New York during and after Winter Storm Elliott brought a cyclone bomb to the area.
Gallery Credit: Ed Nice
Tips for Floods, Lightning, Tornado In New York State
New York Gov. Hochul's Office released steps to prepare and keep everyone safe from disaster,
Historic Snow Storm Hits Buffalo
A historic snowstorm slammed into Western New York on Friday and continues to bring snow to all areas across the region.
Gallery Credit: Dave fields
More From The New 96.1 WTSS