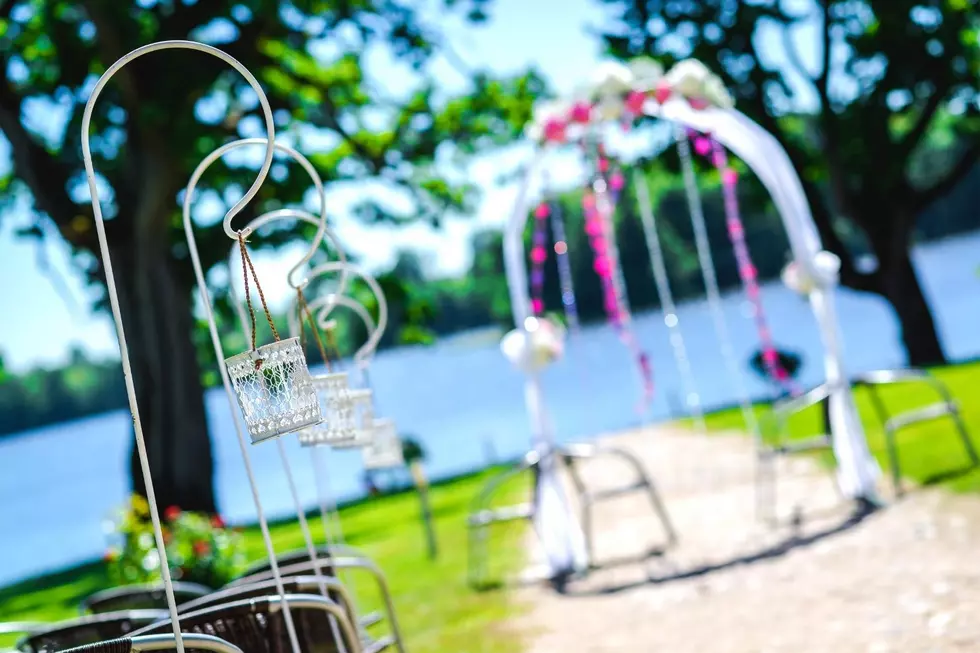 This Is What You Should Know Before Attending A Lakeside Wedding In New York State
Canva
Some of the best weddings this summer will be taking place alongside one of the many gorgeous lakes right here in New York State.
A lakeside wedding in Upstate and Western New York can be one of the most romantic venues you could dream of - not to mention every single photo will be Instagram- ready with the big beautiful lake as a backdrop. 
This past weekend, I was a guest at one of the most incredible weddings I've ever attended on the shores of Keuka Lake. The weather couldn't have been better (we constantly joked that the groom's family must have paid off Mother Nature), the couple arrived at the altar via a speedboat, and the dance party with close friends and family lasted well into the night. It was hands-down one of the greatest weddings ever.
Looking back, even though the ceremony and reception were heavenly, there are a few things I wish I was a little more prepared for before I went to a wedding by the lake. If you're going to a lakeside wedding in New York State for the first time this summer, here are some things to think about ahead of time to make sure the entire event goes swimmingly (pun absolutely intended).
You Can Go From Sweating to Freezing
Here in New York, a wedding by the lake could be scorching hot during the day, but super chilly when the sun goes down. Wearing sleeves and worried about pit stains ruining your expensive duds? They make sweat shields that stick to the inside of your outfit to keep stains at bay (yep, pun intended again). For nighttime, have a dressy jacket or shawl at hand so you don't get goosebumps.
It WILL Be Breezy
A gentle breeze can be a great addition to lakeside wedding photos, but too much wind can also lead to hair constantly on your face and in your mouth. Even better? An unexpected gust could lead to unintentionally showing off the Spanx under your skirt.
If you have longer hair, consider a hairstyle for the big day that will keep your hair back and away, like a fancy-looking low bun. Outfit-wise, choose a longer skirt or dress made of a fabric with a little bit of weight. If you have your heart set on something light and breezy, consider getting these drapery weights (made for curtains, but they work on skirts) to keep from unwanted flashing. 
Wear Comfortable Shoes
Depending on the setup, there won't be a ton of places to sit outdoors (squatting on the grass in a skirt isn't a very comfortable option), so be prepared to be on your feet a lot of the time. A dressy pair of sandals will go a long way towards keeping you blister-free and able to dance until last call. 
If your favorite pair of heels are essential to your outfit (no judgment here), keep in mind that your heels *will* dig into the grass and sand, leading to a broken ankle or just looking straight-up doofy while you walk to and from the buffet. Consider getting heel protectors like these from Amazon. 
Slather On Sunscreen WAY Before-Hand
We all know that dermatologists say to wear sunscreen that's at least SPF 30 every single day to prevent early aging and skin cancer. But okay...sometimes we forget. If you won't wear sunscreen for your skin's health, how about for vanity's sake? I personally found out the hard way that a bad farmer's tan from a sunburn I suffered a month ago doesn't pair well with a backless wedding guest dress. 
Prevent Unwanted Guests
Some lakeside wedding crashers you just can't avoid, and bugs are the biggest nuisance. Mosquitos, moths, and gnats come with the territory of a wedding by the water. Go easy on the hairspray and the perfume, and remember that bug spray is your friend. If you wanna keep the bugs away but don't want to smell like your old summer camp counselor, throw a good-smelling spray like this one in your bag. 
Be Prepared For Tears
Two of my best friends were getting married, so I knew there was a high chance for some emotional moments. I really thought I'd be fine by using waterproof mascara and enough setting spray to fill a bucket. Boy, was I wrong.  
Unfortunately, you never know just how waterproof your makeup is until it's put to the test - and after the ceremony was over (those handwritten vows, UGH), I went to the bathroom to discover my carefully-applied eye makeup smeared all the way down my cheeks. Thankfully, a kind stranger from my table lent me her concealer to clean up and literally save face (it was this one, in case you're curious), but my "waterproof" eye makeup that I spent forever putting on was long gone. Even if you're not a crier, bring a few things just in case you (or a new friend) need a touch-up. 
...And Don't Forget The Tissues!
Truthfully, the "crying incident" wasn't helped by the fact that I didn't have any tissues handy, so I was constantly wiping away gushing tears from underneath my sunglasses. Lots of things grow on lakefront trees, but Kleenex isn't one of them. Be prepared and carry a travel pack. 
Bring An Umbrella Regardless Of The Forecast
I don't care if the weatherman says there is an absolute zero chance of anything except sunshine on the wedding day - you NEVER know what kind of weather you may get at a wedding by a New York lake. On Friday night during the rehearsal dinner, we were shocked to find ourselves stranded outside with no tent for cover during a quick but heavy sprinkle - even though both TV and the Internet insisted the weather would be nothing but perfect. No matter what the forecast says, bring a small travel-sized umbrella with you.  It's worth it. 
Carry A Big-Enough Bag
Clutch purses and wristlets are great for carrying your ID, debit card, and maybe some lip balm - but that's about it. For all of the above suggestions of what to bring to a lakeside wedding, you need something big enough to hold all of it but small enough so guests don't think you brought your laptop to work from the reception. If you don't have a medium-sized dressy purse to bring, start shopping now.
Here's hoping the first or next lakeside wedding you attend here in New York State will be just as amazing as the one I went to. Even if you choose to forget everything above, a summer night by the water celebrating two of your favorite people with the ones you love is guaranteed to be an incredible time you'll never forget.
Gorgeous Buffalo-Themed Gifts Your Bridesmaids Will Love
We know you want to show your bridesmaids how much you appreciate them on your big day. These locally-made gifts will be perfect for them.
Gallery Credit: Megan Carter
More From The New 96.1 WTSS