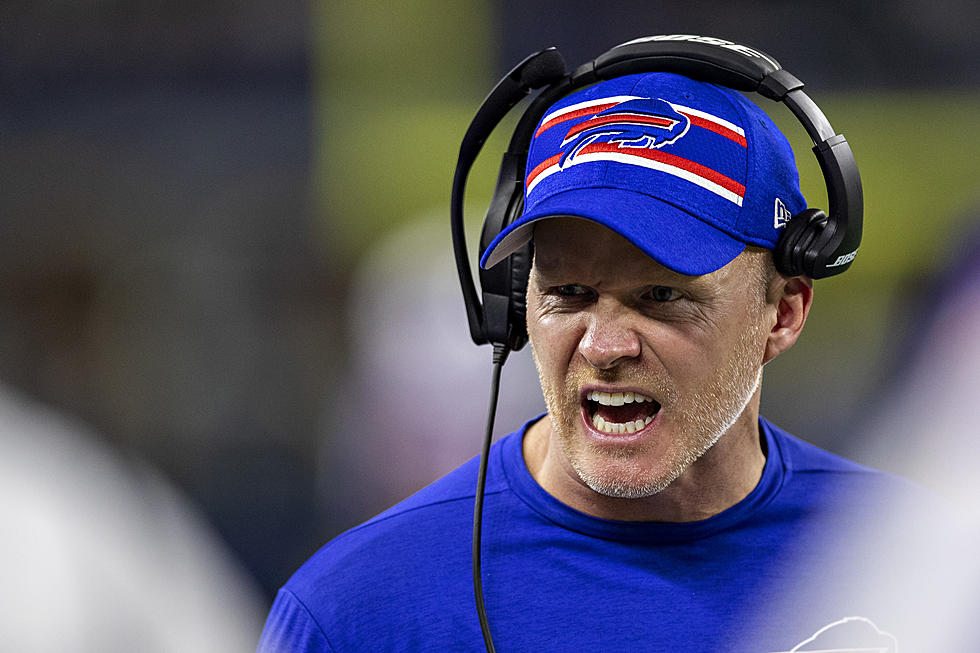 Buffalo Bills Head Coach Pokes Fun At Former Player
Getty Images
Buffalo Bills football returns to Highmark Stadium today as the Bills open up the preseason against the Indianapolis Colts.
It will be the first time that former Buffalo Bill and fan favorite Isaiah McKenzie returns to Buffalo after being released in the offseason. McKenzie signed with the Colts and is looking to provide some help with the development of rookie quarterback Anthony Richardson.
Feel Good Mornings With Dave Fields Mon-Fri 6am-10am
Bills head coach Sean McDermott was asked about McKenzie aka "Lil Dirty" returning back to Buffalo and what he was going to do with him on the other sideline now.
McKenzie joined the Buffalo Bills in 2018 after spending his rookie year with the Denver Broncos, the team that drafted him in the 5th round of the NFL draft in 2017.
In his four years with the Buffalo Bills, McKenzie became a fan favorite but never cracked the starting lineup as a wide receiver. 2022 was his best year with the Bills, he had a career-high 42 receptions for 423 yards and four touchdowns.
His best game that year was the Bills' win over the Lions on Thanksgiving Day. He was the Bills leading receiver with 6 catches for 96 yards and one touchdown.
The Bills are looking at making a run at the Super Bowl this year and today's game against the Colts is the first step towards bringing home the Lombardi Trophy to Western New York.
Today's game is the only home preseason game for the Bills, next week they are on the road in Pittsburgh before wrapping up the preseason in Chicago.
McKenzie isn't the only Bills player to look weird in another team's uniform. Check out these former Bills greats who played for other teams.
6 Buffalo Bills Greats That Didn't Look Right In A Different Uniform
Unfortunately, sometimes your favorite player leaves your team and when you see them it just looks weird. Here are five former Buffalo Bill greats that just look weird wearing a different team's jersey.
Gallery Credit: Dave Fields
Best Free Agents Signed By The Buffalo Bills
The Buffalo Bills are gearing up for a run at the Super Bowl next season and some big-time free agents are already reaching out to the Bills looking to join the team. Check out some of the best free agents the Bills have signed in the past.
Gallery Credit: Dave Fields
QUIZ - Can You Name These 25 Buffalo Bills Players?
Alright...Bills Football is here. How big of a fan are you? Can you name of 25 of these Buffalo Bills players?
Gallery Credit: Dave Fields
More From The New 96.1 WTSS