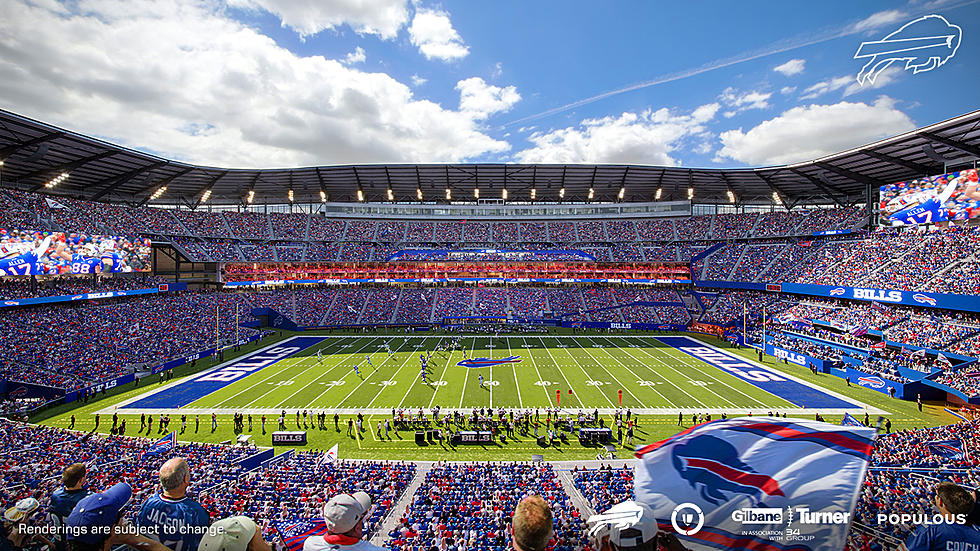 NFLPA Calling For Bills New Stadium To Have This
Photo Credit: Buffalo Bills
The Buffalo Bills just broke ground on their new stadium in Orchard Park a couple of months ago and already some people are calling for it to have one big thing.
After seeing Aaron Rodgers get hurt while playing on turf at Metlife Stadium on Monday Night, the NFL Players Association is calling for all NFL stadiums to switch to natural grass fields.
The good news is that the plans for the Buffalo Bills' new $1.4 billion dollar stadium already call for a natural grass field instead of turf.
Feel Good Mornings With Dave Fields Mon-Fri 6am-10am
The Bills have played on turf since their current stadium was built in 1973. There are no plans to change the current turf field to a natural grass field before the new stadium opens in 2026. Buffalo Bills quarterback Josh Allen also said he is in favor of a grass field as well.  
The Buffalo Bills return home this Sunday trying to shake off the Monday Night Football loss to the Jets. They play host to the Las Vegas Raiders at Highmark Stadium at 1 pm.
If you are headed out to the game, make sure to join us for Buffalo's Best Tailgate at Wings Meeting Place. Get all the details HERE.
Bills Jets Week 1
The Buffalo Bills lost to the Jets in Week 1
Gallery Credit: Dave Fields
Buffalo Bills Themed Beers For Your Tailgate
These are brews you will want for your next Bills tailgate.
Gallery Credit: Dave Fields
10 Easy, Make-Ahead Tailgate Recipes For Bills Games
Here are some easy, make-ahead recipes to bring your tailgate party to a new level.
Gallery Credit: YouTube/Canva
More From The New 96.1 WTSS