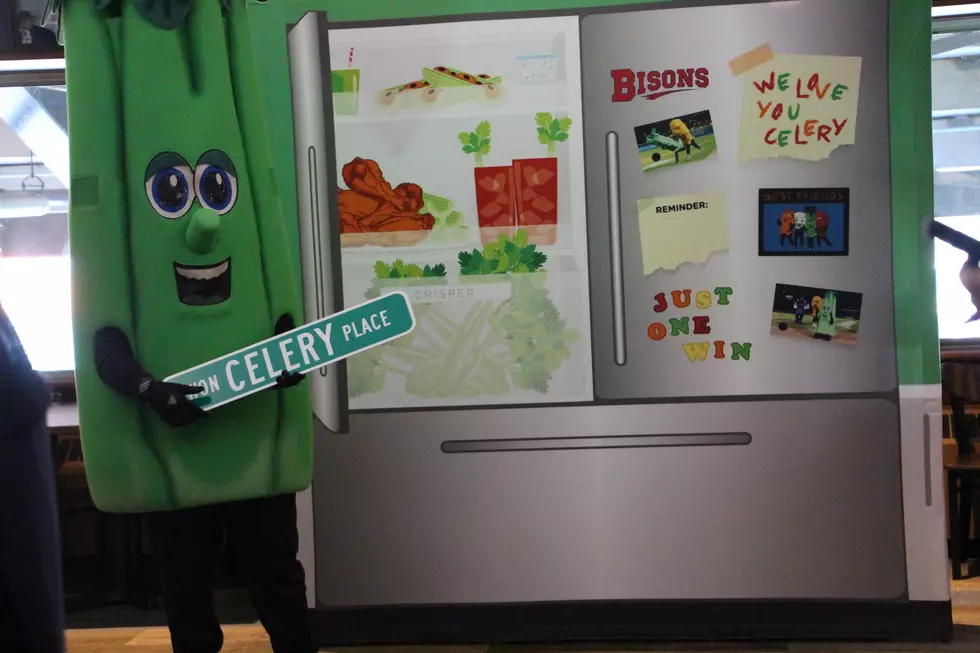 Bison's Celery Replacement To Be Named At Home Opener
Photo Credit: Townsquare Media 2018
The long Baseball off-season is set to end with the Buffalo Bison's home opener on Thursday April 12th, and while new players will be in the dugout, there will be a new player in the Mascot Run as well!
Last year, The Bison's Celery Mascot officially retired from the Mascot Races and the Bison's spend the off-season looking for its replacement. Fans had a chance to vote from several candidates with the winner being offically announced on Opening Day!
Fans had to choice from:
BBQ Wing - The first letter in WCC Race does stand for 'wing,' after all. The alternative to having to decide mild-medium-hot for one group, the messy yet always finger-licking good BBQ Wing might just have a place alongside

Wing and Atomic!


Beef on Weck - Right up there with chicken wings as the dish that Buffalonians proudly call their own, the Beef on Weck is a legend in its own right. No one is doubting its greatness, but is there room in the WCC Race for two main dishes?


Carrot - The likely replacement for Celery in the role of 'don't feel bad about mowing down 15 chicken wings because you had a couple sticks of a vegetable.' PLUS, Carrot already has some limited WCC Racing experience.


Chicken Finger - Chicken Wings' boneless brother, the Chicken Finger adds some undeniable variations to Buffalo's main dish. On a sandwich, as a sub, or dare we say even on a salad, Chicken Finger could be the utility player the WCC Race needs.


Fish Fry - The start of the baseball and Fish Fry season are just about the same time each year. The Fish Fry also has a claim for being a Western New York Friday night staple, which is something the Bisons also know a lot about.


Pierogi - A stable in Buffalo's long-standing and proud Polish community, the Pierogi also shows impressive versatility as one of our region's food stables. As a main dish or as a side and with many filling options, the Pierogi could be a force in WCC Races.


Pizza - Other cities may claim to have 'great pizza,' but come on, we know better. Plus, it's interesting to note this: Do you say you're going out for 'Pizza and Wings' or "Wings and Pizza' ??? Think about it!


Ranch - Here's the potential for some heated rivalries in the WCC Race as well as on your plate. Does Ranch have a place in the Bleu-Cheese-town of Buffalo?


Sponge Candy - The WCC already has a main course. Is it time that dessert is represented, as well? Milk chocolate, dark chocolate, orange-flavored...Sponge candy is always fantastic and is no doubt a Buffalo-specialty!


Wet Nap - If you have wings, you need a Wet Nap...plain and simple.As the lone non-edible finalist, Wet Nap has the potential to clean up the competition on a nightly basis! Maybe even serve as Wing's kryptonite?

Source: Buffalo Bisons
Who do you think it will be?
More From The New 96.1 WTSS