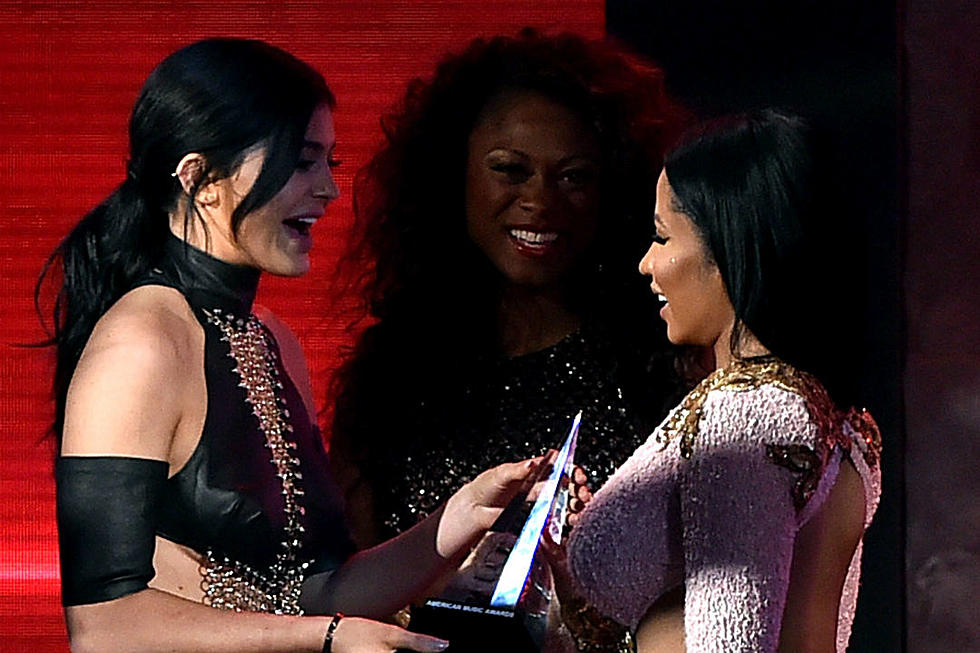 Nicki Minaj's Response to Video of Kylie Jenner Avoiding Her Is Surprising as Hell
Kevin Winter, Getty Images
Nicki Minaj has responded to a video of Kylie Jenner spotting Minaj on the MTV Video Music Awards red carpet and completely re-routing to avoid the rapper, and the Queen artist's answer will likely surprise you.
On Monday night (August 20), and likely as a response to Minaj's accusations that Jenner and boyfriend Travis Scott indirectly kept Minaj's latest LP off the top of the Billboard 200, Jenner could be seen in a TMZ video eyeing Minaj outside the awards show and then walking in the opposite direction. But in the latest installment of Minaj's Beats 1 radio show, she says it's no cause for concern, and that she totally understands Jenner's move.
"She gotta ride with her man, why the f--- wouldn't she? We're not gonna make this what it's not," Minaj said. "She's a dope girl...This is strictly about music, she has nothing to do with this. My fans are not feeding into this. We love Kylie." 
How...unexpectedly diplomatic!
Someone who's not getting the same type of diplomacy from Minaj, though, is Scott's manager Irving Azoff. Minaj proceeded to accuse Azoff on her show of conspiring to destroy her forthcoming tour, the United States leg of which Minaj postponed earlier this week as a reported consequence of sluggish ticket sales. Minaj claimed Azoff was behind the story that she wasn't selling out venues.
"The c--------- of the day is Irving Azoff," Minaj said. "And I'm gonna tell you why. Allegedly, he tried to put out a smear campaign against my tour, and contacted people in the media to spread negative things about my tour."
"May God be with you, Irving," she added. "It's disgusting what these people have been systematically trying to do."
Kim + Kourtney Look Like They Want To Kill Each Other
More From The New 96.1 WTSS