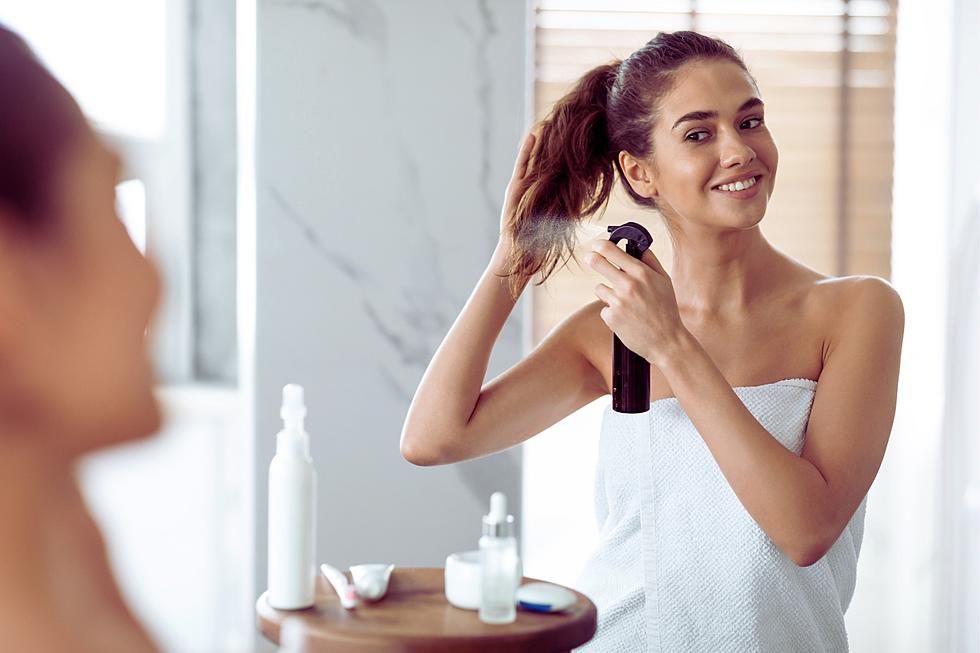 New Yorkers: Get Lawsuit Money If You Bought This Hair Product
Canva
What kinds of grooming products are sitting in your bathroom drawers and cabinets right now?
Many of us have go-to hair, body, and beauty products that we use regularly. Whether it's a certain deodorant you always buy because you like the scent or a lotion that makes our skin more bearable during the harsh New York winters, it's hard to pry our favorite products out of our hands once we've become attached. 
For many men and women who need a quick fix for a good hair day, that product is dry shampoo. 
What Is Dry Shampoo?
Now that we've been introduced to dry shampoo, we have no idea how we lived so long without it.
Dry shampoo is a powdered hair product (usually found in an aerosol can) that you spray on the roots of your hair in-between washes to get rid of excess oil. It's not meant to be used every day, but if you're looking to prolong your current hairstyle or freshen up after a workout or a humid day (and you don't have time for the full-blown wash, condition, and dry routine), dry shampoo can be a godsend.
Several types of dry shampoo have been around for years, but in the past decade or so its use has exploded in popularity. Today, you can find dozens of brands of dry shampoo in stores and online that are suited for all hair types.
Unfortunately, we've recently learned that one of the most popular brands of dry shampoo out there has been found to contain a chemical hazardous to our health - a brand that's currently sitting in thousands of bathroom drawers across New York State as we speak.
Lawsuit Against Batiste Dry Shampoo: Here's What You Should Know
Church & Dwight, owners of Batiste Dry Shampoo, recently reached a settlement in a class action lawsuit alleging that the brand contaminated their products with benzene, a carcinogen that is linked to leukemia and other blood diseases.
The company has denied any wrongdoing, but agreed to pay out $2.5 million to consumers who bought Batiste products before May 30, 2023.
Are You Eligible For The Batiste Class Action Lawsuit?
Although the lawsuit was originally filed in Pennsylvania, New York State residents are also eligible to file a claim for a settlement from the makers of Batiste.
Specifically, according to the agreement:
If you bought Batiste Bare and Clean or Batiste Light Bare products and can provide proof of purchase, you can receive a full refund for your purchase(s).

If you bought Bare products but no longer have your proof of purchase, you can receive up to $2 per product purchased and claim up to five products (a maximum of a $10 refund). 

If you bought  any Batiste products (other than Bare), you can receive a $2 product voucher for each purchase; up to five products (a maximum of $10 in product vouchers). 
Deadline For Batiste Dry Shampoo Settlement Claim Is Coming Soon
In order to receive a payment or voucher, you must submit a valid claim form by November 15, 2023, which you can do here. 
10 Items That Seem Odd But Can Go In Your Hair - (Gorilla Glue is NOT on this list)
For obvious reasons, Gorilla Glue is NOT on the list. But, you might be shocked at these other odd items that seem to be go-to products for a variety of hair care situations.
Gallery Credit: Jessica Williams
16 Most Searched Celebrity Hairstyles Nationwide
Check out the most-searched celebrity hairstyles in the U.S. according to overall national search volume, per
StyleSeat
.
Gallery Credit: Ryan Reichard
More From The New 96.1 WTSS