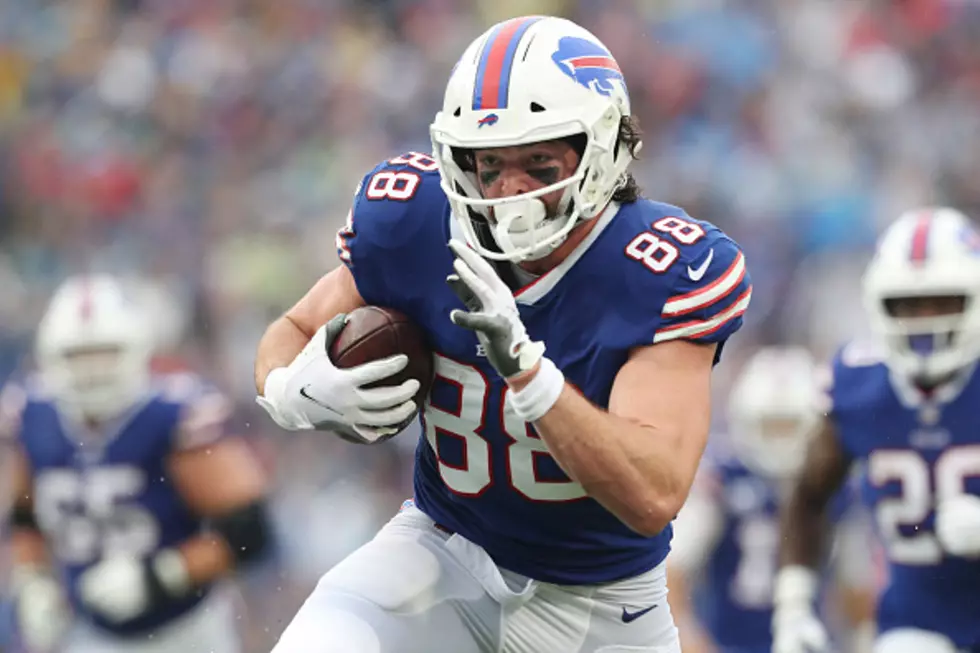 Dawson Knox Named Best Tight End In AFC East
Getty Images
The Buffalo Bills are still enjoying some time off this offseason before they report to training camp in July.
As they look towards the new season, one player stands out among his peers in the AFC East.
Recently Pro Football Focus put out a list of the Top 15 tight ends in the NFL.
Only one player from the AFC East made that list. That would be Buffalo's, Dawson Knox.
Feel Good Mornings With Dave Fields Mon-Fri 6am-10am
Here is what PFF had to say about Knox, who was ranked 12th on the Top 15 list.
Knox's days in Buffalo might be numbered due to the arrival of Dalton Kincaid, but that won't detract from his value to the Bills in 2023. With the seventh-highest WAR at the position over the past two seasons, Knox has been a safety valve for Josh Allen despite middling grades the past four seasons.
As they mentioned, the Buffalo Bills used their first-round draft pick on tight end Dalton Kincaid but many experts expect him to play more of a slot receiver out of the tight end spot whereas Knox will be more of a traditional blocking/catching tight end.
The fact that the Bills have both of them on their roster should be making the Bills Mafia drool. The amount of mismatches that the Bills should be able to create is unlimited.
Here is a look at the Top 15 Tight Ends in The NFL According to PFF:
1. TRAVIS KELCE, KANSAS CITY CHIEFS
2. MARK ANDREWS, BALTIMORE RAVENS
3. GEORGE KITTLE, SAN FRANCISCO 49ERS
4. DALLAS GOEDERT, PHILADELPHIA EAGLES
5. T.J. HOCKENSON, MINNESOTA VIKINGS
6. PAT FREIERMUTH, PITTSBURGH STEELERS
7. KYLE PITTS, ATLANTA FALCONS
8. DALTON SCHULTZ, HOUSTON TEXANS
9. TAYSOM HILL, NEW ORLEANS SAINTS
10. DAVID NJOKU, CLEVELAND BROWNS
11. DARREN WALLER, NEW YORK GIANTS
12. DAWSON KNOX, BUFFALO BILLS
13. CHIGOZIEM OKONKWO, TENNESSEE TITANS
14. EVAN ENGRAM, JACKSONVILLE JAGUARS
15. GERALD EVERETT, LOS ANGELES CHARGERS
The Newest Buffalo Bills Jersey Numbers
Gallery Credit: Brett Alan
QUIZ - Can You Name These 25 Buffalo Bills Players?
Alright...Bills Football is here. How big of a fan are you? Can you name of 25 of these Buffalo Bills players?
Gallery Credit: Dave Fields
Complete List Of Buffalo Bills Available On Cameo
Gallery Credit: Brett Alan
More From The New 96.1 WTSS