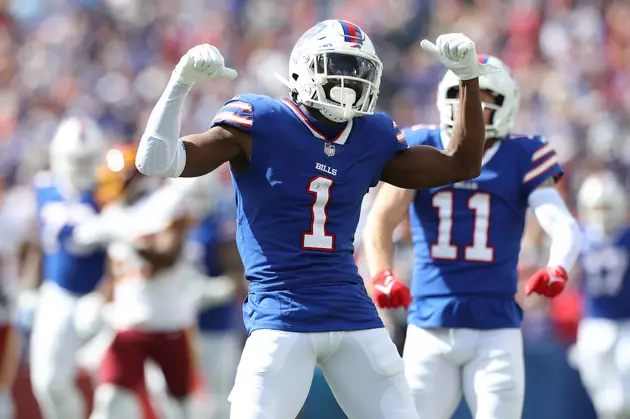 1 Day Until Buffalo Bills Kickoff: Who Wore #1?
Getty Images
As we've been counting down to kickoff, we've been highlighting players who wore the same number as the days that were left.  Today, the options are probably more limited than ever.  Only a handful of guys ever wore the #1 for the Bills.  When I say "a handful" I mean 4 guys.  That's it!
Benny Ricardo
The first was a guy that you may have seen in other places than the football field.  Benny Ricardo was a stand-up comedian and an actor from Paraguay.  He was in the movie Wildcats and played for the Bills in 1976.  Now, he serves as a bilingual commentator for football and boxing.
Efren Herrera
The next was a Mexican-American kicker named Efren Herrera.  He was born and raised in Guadalajara and came to the Bills in 1982 during the strike-abbreviated season.  His field goal completion percentage was 67.8%.  Compare that to Rian Lindell's 83% and Steve Christie's 77% and you can see why he was only on the team for that one year.
Mike Hollis
Mike Hollis was one of the most popular to wear the #1.  The third kicker to wear that number for the Bills.  He played for the Jacksonville Jaguars before coming to Buffalo and only played here for one year in 2002.  Twenty years later, and he's still playing.  Now, he is in the National Arena League playing for the Jacksonville Sharks.
Emmanuel Sanders
Then the number went dark for a while.  It wasn't until 2021 that the number 1 was seen on the field again for the Bills when Emmanuel Sanders chose to wear it.  Sanders was a bit of a journeyman after playing 3 years for the Steelers and 5 more for the Broncos.  He went on to play for San Francisco and New Orleans before coming and playing for The Bills.  Was it his last year in the NFL?  He's still listed as a free agent, so nothing is off the table quite yet.  But after last season, Sanders admitted that he wasn't sure if he was ever going to return to football again.
Complete List Of Buffalo Bills Available On Cameo
Gallery Credit: Brett Alan
Gameday Rules For Buffalo Bills Fans That Watch From Home
Gallery Credit: Brett Alan
16 Buffalo Bills With Some Of The Best And Worst Nicknames
Gallery Credit: Brett Alan
More From The New 96.1 WTSS